Oncologist Recounts Difficulty of Mid-Career Move
After 18 years at his first and only employer, the Cleveland Clinic, in Ohio, Mikkael Sekeres, MD, decided it was time to move on.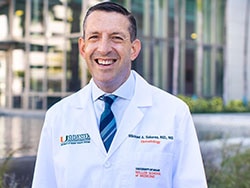 The hematologist-oncologist said that his opportunities for career advancement had plateaued and, with the burden of additional clinic hours in recent years, his work as a researcher and mentor was pinched.
So Sekeres set out on a mission to find a new job, which culminated with being hired in 2020 by the University of Miami Sylvester Cancer Center, in Miami, Florida. He recounted the process in an essay published this summer in the Journal of Clinical Oncology and in the September 14 edition of the Healthcare Unfiltered podcast.
Accepting the job offer was the easy part, he said.
A "big believer" in the thesis of Malcolm Gladwell's book, Blink, about decision making, Sekeres reported that he had a "Blink moment" interviewing in Miami: "We go to a place, we get a gut feeling about it, we know the right decision, we know we want to be there."
But just about everything else was difficult or at least challenging, he said.
The trials and tribulations stemmed in no small part from being "mid-career" ― and all that means, Sekeres told Medscape Medical News.
"The 'activation energy' required to uproot and restart your career and move your family is enormous," he said. "It's a huge time commitment to apply for another job, and it's also a huge emotional commitment to start to think of yourself in another place…and how that affects your relationships [with family, patients, and colleagues]."
In short, it's consuming and potentially exhausting.
There's not a lot attention paid to mid-career changes in medicine, Sekeres said.
"I got a lot of feedback about [the mid-career focus of the essay]," he commented. Social media posts about both the essay and the podcast interview went viral, he said. "I think it's because there's so little out there [on the topic]."
Sekeres suggested that, at mid-career, physicians tend to fall into broad categories in terms of job satisfaction and any would-be change.
One is the contented. "I have seen colleagues who decide that they are content staying on the same path and are comfortable with where they are and in their relationships. That's not a bad thing ― that's a good thing."
Two are the unhappy and stuck. "I have also seen colleagues who don't like what they are doing but can't envision moving on."
Three are the migrants. "I have a ton of colleagues who are leaving medicine entirely for industry." Two such cases were described recently by Medscape Medical News. Sekeres said some of that change is COVID related, but some of it is dissatisfaction with medicine.
Four are those who explore a move into another position ― and summon the energy to sustain the effort.
For those folks, Sekeres has a lot of advice and insight.
Family First
For mid-career (and middle-aged) physicians who are either partnered and/or have children, any successful job change must be a family-centered decision, said Sekeres.
"I have seen colleagues who make this move and get divorced right afterwards," he said, citing the tremendous upheaval of such a big change, especially when it means a physical move.
Sekeres and his wife, who is a pharmacist, have children aged 12, 17, and 20 years. Once the job in Miami became a strong possibility, the couple met with the kids on a warm summer day on their backyard patio in Ohio. "….[T]hey understood our machinations, supported the decision, and asked when they could start hosting Miami pool parties for their friends, in that order," he writes in the JCO essay, which appeared in the popular Art of Oncology section of the publication.
The family also visited Miami "to see if we could live there," added Sekeres. It was a go.
However, Sekeres and his family were then separated for 6 months while he started work in Miami and the family wound down their lives, including school, in Cleveland.
Sekeres says he "very quickly" missed being surrounded by his partner and children and recounts the loneliness of being separated from them. "We complain about the chaos that envelops us at home, but that chaos is so comically normal compared with the devastation we see every day taking care of people with cancer. It becomes a salve."
The Importance of Discretion
Job change begins with conversation and contemplation, Sekeres suggests.
"Find friends and colleagues you trust to have those conversations [about opportunities and moves]," advises Sekeres, who is well regarded for his communication skills, including as a contributing essayist at The New York Times.
"Does my day-to-day life bring me joy?" is a basic question to ask yourself in the run-up to starting a job search, he adds.
Being selective and patient is important, Sekeres says. "I kept my ears open ― I didn't jump at every opportunity."
Once serious possibilities emerge and interviews occur, the hematologist-oncologist stressed the importance of having clarity about your intentions and being discrete.
"I'm not a fan of going to interview at places to get a better offer at home. It's disingenuous…to put it plainly, it's rude and disrespectful…. Eventually it's going to bite you in the butt."
Meetings and interviews should be done carefully. "You have to be discrete and it's incredibly awkward. Let the people you are interviewing with know that you are not public about looking elsewhere."
Eventually, your circle of trusted confidantes about a job search will have to include people who act as references. Again, Sekeres emphasized direct communication: "Ask them to be discrete."
What if something leaks? Acknowledge self-interest (an accepted motivation) and be respectful to everyone, including to supervisors at your current job, he commented.
Sekeres eventually signed his Miami offer letter "happily" but kept the news private for 2 months before his last day of work. Managing that secret was "much more difficult than I anticipated," he acknowledged. It required his agreeing to meetings and projects that would only be completed long after his departure. "I apologized for this when the news was public," he said.
On the Way Out the Door and Being the New Guy
In one word, Sekeres summarized the difficulty of saying good-bye to patients, especially longtime ones: "Brutal." He advises reaching out before they get a form letter from the administration. "That is really hurtful," he commented.
After nearly 20 years on the job at the Cleveland Clinic, Sekeres had strong ties to many colleagues. "…[S]ome wished me luck, some cried, and others asked for a playbook of how to look for a job," he writes.
In the essay, Sekeres also hints, through his sense of humor, that being the New Guy is trying and humbling.
In Cleveland, he knew "just the right person to call to move a clinical trial forward, or to arrange blood transfusions for a patient…." In his new job, he does not "even know the phone number for the paging system."
When Sekeres got his Miami ID badge, the clerk dismissed his wish to have Hematology as the department identifier (he is the new chief). "It says here 'Medicine.' That's what you will get," he was told.
Eventually, things come together, said Sekeres, and you begin to truly enjoy a change at the halfway mark of your career. No, he doesn't like his new commute, which is worse than the old one in Cleveland. But there are many compensations, including the vibrancy of Miami, with its diverse and rapidly expanding population, and a job with significantly more program development, mentorship and research, he said.
And there's this, which he posted on Twitter: "Snorkeling on a Sunday to see the Coral Reefs #WeHaveOpenFacultyPositions @SylvesterCancer @UMiamiHealth
Snorkeling on a Sunday to see the coral reefs. 😀#WeHaveOpenFacultyPositions @SylvesterCancer @UMiamiHealth pic.twitter.com/AJzpl5gODR

— Mikkael A. Sekeres MD, MS (@MikkaelSekeres) September 26, 2021
Nick Mulcahy is an award-winning senior journalist for Medscape. He previously freelanced for HealthDay and MedPageToday and had bylines in WashingtonPost.com, MSNBC, and Yahoo. Email: nmulcahy@medscape.net and on Twitter: @MulcahyNick.
For more news, follow Medscape on Facebook, Twitter, Instagram, and YouTube.